Welcome to the Lenmed family where we embrace every day!
Meet some of your co-workers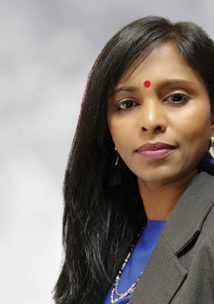 I am a case manager at La Verna Private Hospital. I love working at La Verna as I have been working here for the last 17 years. I have developed here from being a receptionist to a case manager, to a financial clerk and have moved into case management again. I enjoy handling many day-to-day challenges with patients and medical aids. I have confidence in my ability to get many cases approved as I have great relationships with the case managers at our major medical aid schemes. My managers have faith in me and I have great working relationships with my colleagues. I spend more of my time at work than at home, therefore I need to be happy with what I do. I wish to thank my management at Lenmed La Verna Private Hospital for allowing me to prosper.
Rekha Mahie – La Verna Private Hospital
Work with the best and the brightest!
We have an intelligent, skilled and experienced workforce filled with fascinating people. If you are going to work with us, you will learn something new every day. Our goal is to make everyone feel valued and fulfilled.
We know teamwork enables us to serve our customers (including each other, our doctors, our patients) better. We embrace diversity and personal development not only because it's the right thing to do, but because it's smart business.
Browse opportunities to join the team